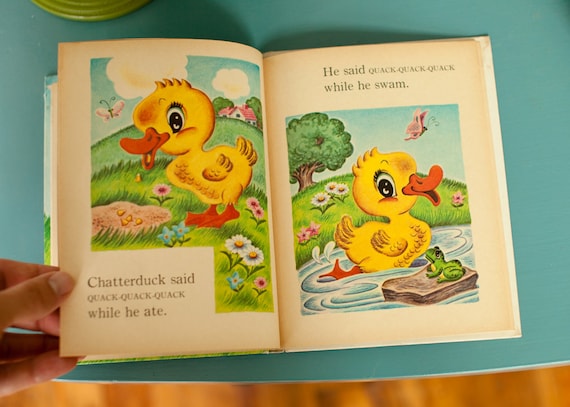 In the beginning, as a toddler, one of my favorite books was Chatterduck. Chatterduck lived in the barnyard and quacked (quack quack quack) day in and day out (quack quack quack), even in his sleep (quack quack quack). You can see the appeal, no? Eventually the other barnyard animals, fatigued by the constant stream of noise, all quacked at Chatterduck. Ever after, Chatterduck kept his silence, and when he had something of great import to say, he simply said "quack."
As a family we liked to explore Chicago on weekend trips. One trip we were waiting at a bus stop in front of DickBlick, an art supply shop where I made an impulse purchase of a key chain with a duck that quacks and lights up. It made the rounds for the rest of the trip, producing giggles with every button-pushing quack.
On yet another family trip in Michigan's upper peninsula, we visited Kitch iti kipi, a pristine spring-fed lake known and loved by many a Michigander. There are plenty of ducks about, prompting our poetry loving children to quote Ogden Nash's poem. I will reproduce it for you here:
The Duck

Behold the duck.
It does not cluck.
A cluck it lacks.
It quacks.
It is specially fond
Of a puddle or pond.
When it dines or sups
It bottoms ups.
When my kids were even younger, preschool/kindergarten, they used to check in on my sewing progress and would ask about the sewing duck. At first I had now idea what they were talking about. One of them finally told me that the ankle (the bit that holds the presser foot) looked like a duck. I got down on their eye-level and vantage point, and behold: a duck! Delightful.
Now, my kids collect toy rubber ducks. They give them away frequently. In the "classic" menu of ringtones, behold: a duck ring tone that will not be missed by anyone in the domicile or vehicle.
And there you have it. When I needed an LLC for a side hustle, The Quilted Duck stepped in to run all the interesting contract bu
I like ducks. Rubber bath toy style ducks. Real birds are ok too, but I dislike things I have to clean up after, so little yellow toys it is. Sheep are good too.